INFLASOLE™ is a newly patented consumer product featuring  Adjustable Comfort Insoles - replaceable shoe inserts with a built-in, miniature air-pump and release valve enabling wearers to adjust the air pressure for their own desired comfort support according to the weight and activities of the individual. No matter what activity, be it standing, walking, running or sports - Just pump-it-up!
INSTRUCTIONS for INFLASOLE™
---
TO INFLATE INFLASOLE™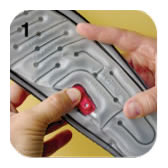 1.Squeeze the pump rapidly until desired air pressure is reached.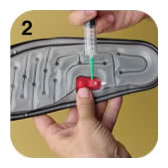 (Alternative Option)
2. Using the Syringe, insert the plastic tip (included) gently into circular opening on side of the pump and squeeze piston. You can add a few drops of water this way too (Pump will function better).
---
TO DEFLATE INFLASOLE™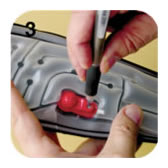 3. Press release valve, which is next to the pump, with the point of a pen. (DO NOT use sharp objects)
---
TO INSERT INFLASOLE™ INSIDE YOUR SHOES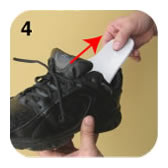 4. First Remove Existing Insole. (Some brands of the shoes glue the insole or liners to the shoe. Careful removal will not damage neither shoes nor insoles.)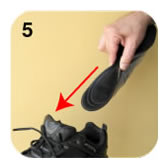 5. Then squeeze Inflasole laterally with pointer finger pushing down. Insert INFLASOLE deep into bottom of the shoe.
---
TO RISE HEEL INSIDE YOUR SHOES (Optional)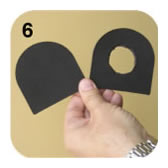 6. If needed cut the heel support to match the shoe's heel shape. Place the heel support, with or without hole, under the heel of the INFLASOLE.
---
If you are not sure how to insert INFLASOLE properly or if you have a foot problem that needs special treatment, consult with good podiatrist.
Additional Information
To inflate insole faster or to reach higher air-pressure, if needed, you can also use inflating device with tapered plastic tip (included in package). There is a small circular hole (inlet valve) on one side of the pump.
INFLASOLE™, Inflatable Insoles, can accommodate several shoe sizes. We recommend ordering one size smaller Inflasoles than your regular shoe size.
Before inserting INFLASOLE™ into your shoes, please remove the existing insole or liner. (Some brands of the shoes glue the insole or liners to the shoe. Careful removal will not damage the shoe.)
Our product sizes "B", "D" and "G" can be cut to fit on marked portion of the tip of the Inflasoles using heavy duty scissors.
BE CAREFUL NOT TO CUT INFLATABLE AREA.
INSERT INFLATED INSOLES WITH CLOTH SIDE FACING UP. (You can ease insertion of the INFLASOLE™ by holding insole between your thumb and middle finger while using your pointing finger to squeeze insole downward. Once insole is inside the shoe it will spring back to its original shape). If needed, adjust shoe lace(s) after a few minutes walking.
When your shoes wear out, just take out INFLASOLE™ (Inflatable Insoles) and insert them into your new shoes. They may outlast several pairs of your shoes.
"TREAT YOUR FEET, THEY ARE CARRYING YOU."